Excited to start homeschooling your Kindergartener but don't know where to start? An all-in-one curriculum from BookShark will keep your prep time low and your love of literature the main focus.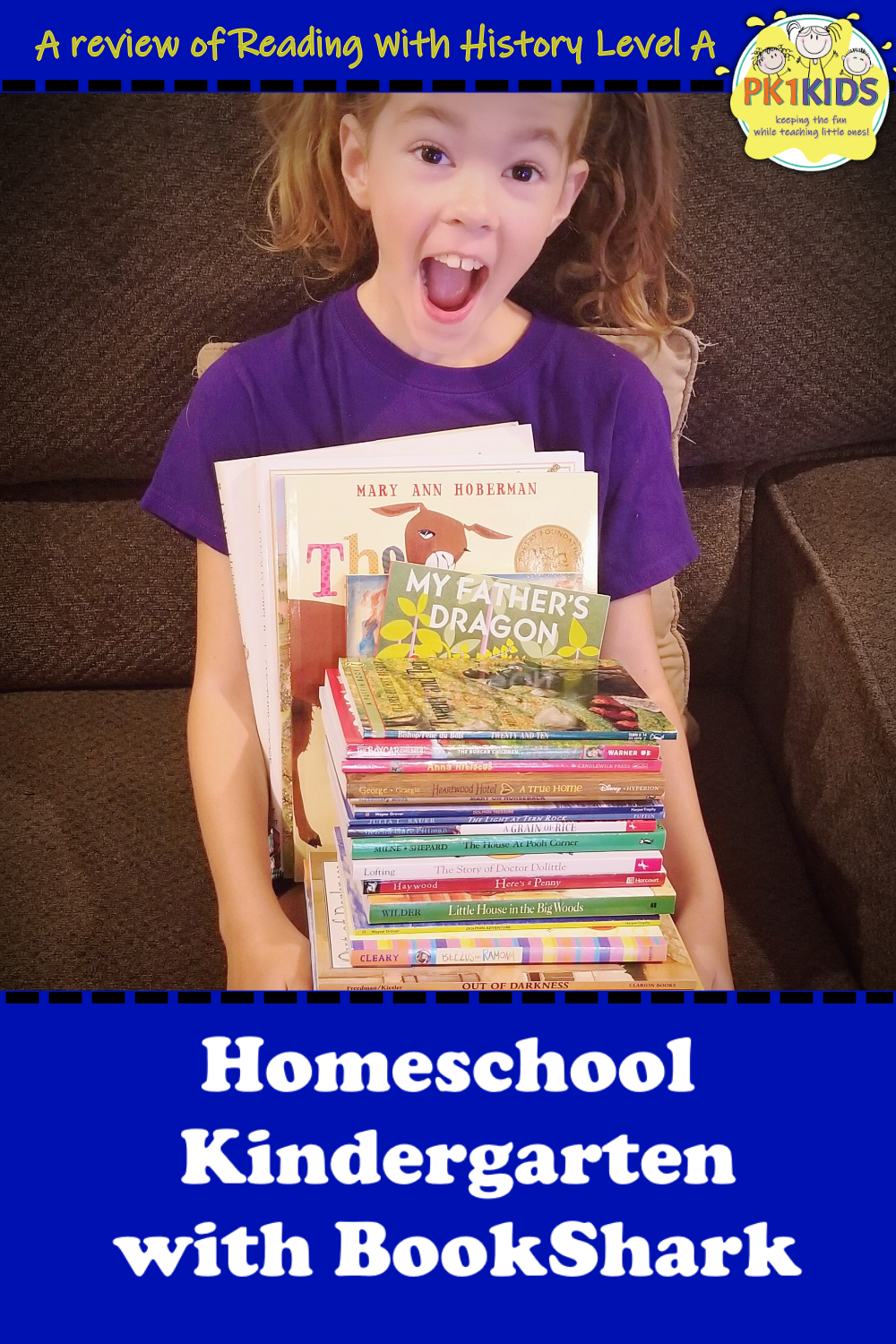 Disclosure: I was compensated for my time reviewing BookShark Reading with History A, Intro to the World: Cultures, but all opinions are honest – I want to help YOU in your choice of homeschool curriculum!
How To Homeschool Kindergarten With BookShark
Starting your official first year of homeschool is a big deal around here. We always make starting school as fun as we can for the little ones. They get a backpack like their big sisters, a special desk to sit at, and their own box of school supplies.
If you've got a kiddo ready to start their homeschool journey, you're probably elbow deep in curriculum catalogs. Be honest, are there 27 tabs open in your browser right now assisting you in curriculum research?
Curriculum overwhelm claims many innocent victims each year – excited moms who can't wait to start homeschooling their kids, only to have their joy squashed flat the moment they begin trying to wade through the thousands of curriculum options to choose what to buy for the year.
If this is you, know you're not alone. Most of us have been there!
Try an All-in-One Homeschool Curriculum from BookShark For a Breezy First Year
One of the best ways to start homeschooling is to choose an all-in-one curriculum that covers all the subjects. An all-in-one curriculum package from BookShark will come with everything you need to homeschool your kindergartener for their entire year.
When you get your big, beautiful box from BookShark, have fun watching your kid's eyes light up as you unload all the wonderful books. It's the most exciting day of the year!
You might feel a little intimidated by it all – this is normal, albeit unnecessary. It's unnecessary because there's one major component to this curriculum that's going to take all your cares away.
The Instructor's Guide is a packet of weekly schedules that you'll place into your BookShark binder. Each week will be tabbed and ready to go for you.
---
Every day is planned out for you – in simple and easy to follow weekly guides

Literature is in the forefront – children have deep connections to what they learn through reading relevant books and stories

Geography & Vocabulary is built in, no separate curriculum needed

Kids get a solid introduction to different cultures, different ways of life, and multiple countries around the world

Kids steadily build confidence in reading throughout the year




---
 "BookShark makes homeschooling Kindergarten easy and incredibly rewarding. It's the best way to start homeschooling!" -pk1kids.com
BookShark Level A is a Low Prep, All-In-One Kindergarten Curriculum
If you purchase the all-in-one Level A package from BookShark, you will have everything you need to homeschool each week – with VERY little prep!
You'll turn to the next week's tab, load up your BookShark bag with the books you need and… and… nothing. And nothing else. That's literally all the prep you need to do!
Yes, it's that easy.
Or, Start With Just The Reading With History Package
The Level A Reading With History Level A Intro to the World: Cultures package is a great base to your homeschool curriculum. This covers reading, geography, and history with plenty of vocabulary added in. Choose this package if you don't need a math, science, and language arts curriculum.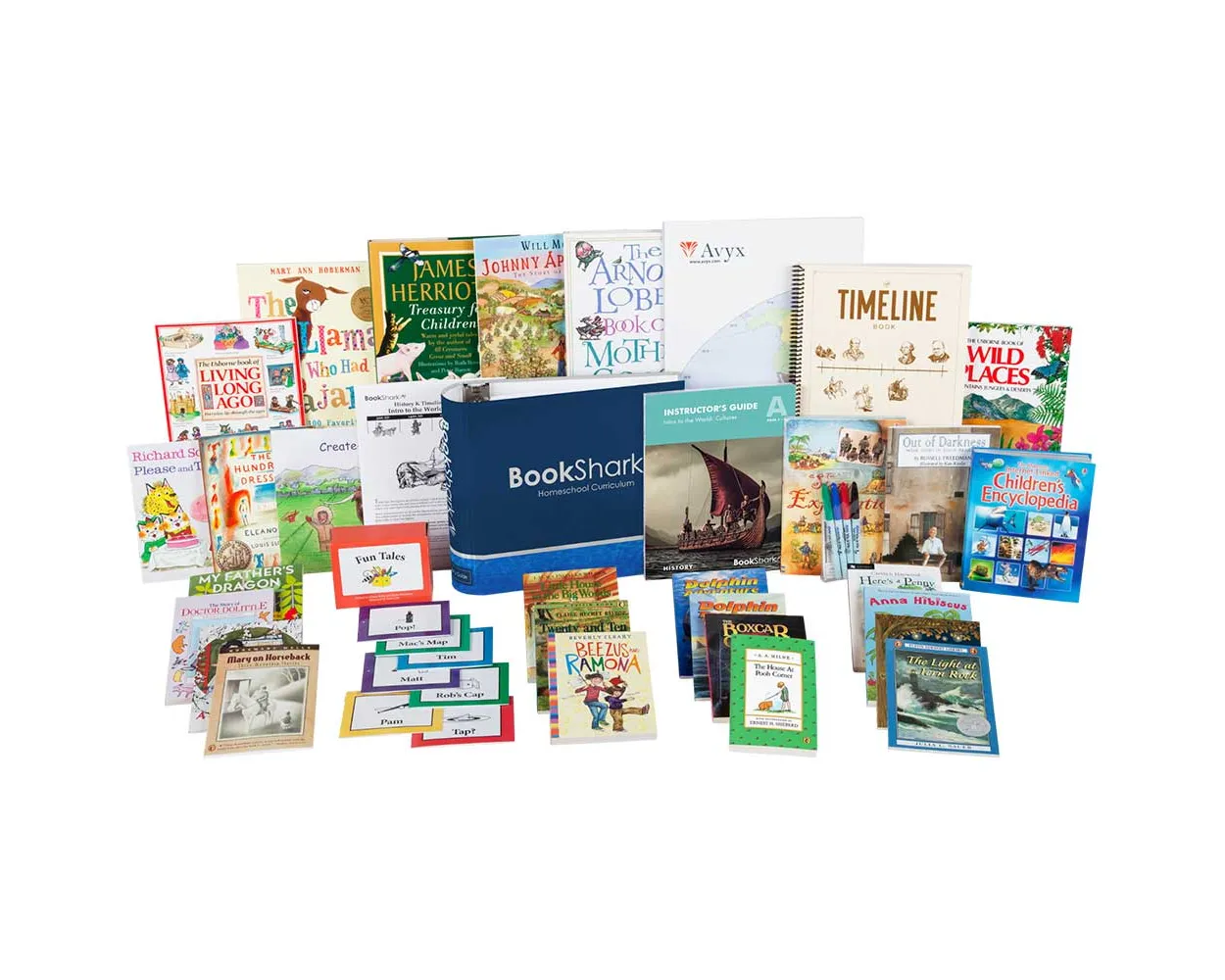 Ok, So How Does BookShark Work For Kindergarten?
I bet I can guess what you're thinking and wondering. First, you're probably wondering if this curriculum package is worth the investment. You're probably also trying to figure out how it works on the daily so you can decide if it's going to work for your unique family situation. I'd say the two are connected – if you can see how this curriculum plays out through the year and what it means for you as the teacher, (and what the results will be for your student) you'll spot its worth right away.
I'd love to help you with that.
First let's go over all the components and how they're used.
The BookShark Tote Bag
Yes, I'm starting off with the tote bag. It's just a bag, right? Well, true, but using the tote bag in your process of weekly prep is my favorite part of this curriculum Everything you need to teach a week of homeschool can fit in your BookShark tote bag.
When you're ready to prep for the upcoming week, simply open the Instructor's Guide to the next week's tab and read through the list of books and materials. Put each book into your tote bag, then set it where you'll start school on Monday.
When you begin your school day, simply read through the Instructor's Guide starting at the top of the day and do each filled in box. Reach into your tote bag and read the pages indicated from each book. (Add a simple check next to each task as you complete them for an instant sense of accomplishment.)
You could, of course, use a basket or special shelf for your weekly materials. The added benefit of the tote bag is that you can easily take school on the go – be it in your backyard on a cool spring afternoon, or to the park or destination for a little road schooling.
The Binder & Instructor's Guide (IG)
The Instructor's Guide is like BookShark holding your hand each day, reminding you to relax and take things one step at a time.
When you receive your BookShark order, you'll receive a packet of paper that is your Instructor's Guide. Your BookShark binder will come with 36 numbered tabs which represent 36 weeks of the school year.
Put the kids to bed, make a cup of tea, and take time to put all the weekly pages from the IG into your binder after their coordinating tabs. Yes, it's slightly tedious but you will finish and then you'll look at your beautiful BookShark binder and feel super organized and ready for anything that comes your way this year.
This is also the perfect time to add any extra things you want to do throughout the year to your plan. Your IG will have some blank spaces on each weekly plan. It will also include a blank week plan you can copy and add extra subjects.
Next, it's helpful to grab a smaller binder to put a month or so of weeks into. A smaller binder is easier to fit in your tote and to flip through, and fits more nicely on your lap. It also helps you to focus on a small part of the year at a time and remind you that yes, you can do this!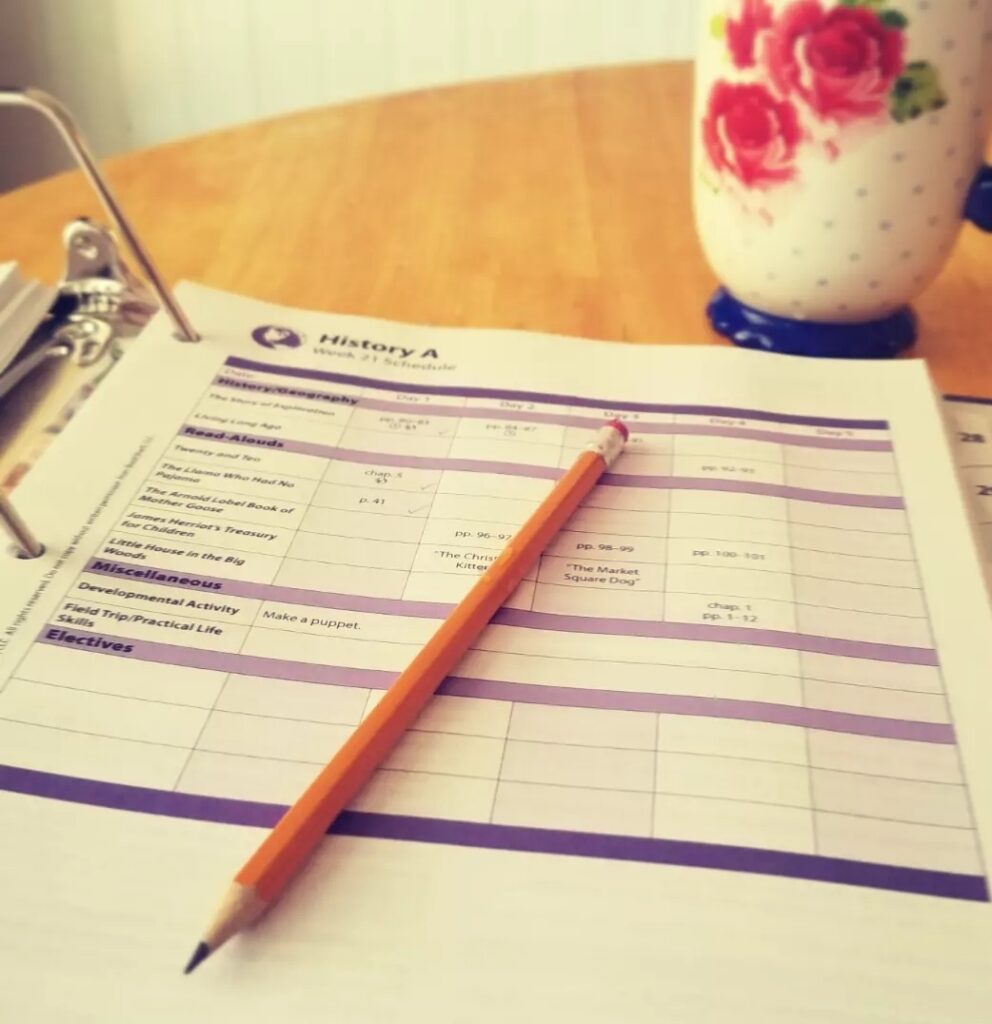 The Books
Many people who choose BookShark do so because they love literature, reading books with their kids, and want their kids to become avid readers. Some people like me love BookShark because we live with nagging FOMO, worrying that everyone out there is reading amazing books to their kids that we don't know about. Luckily, BookShark has this covered!
Choosing a curriculum package from BookShark means you'll be reading wonderful and delightful stories all year long. You'll go on a variety of adventures through all sorts of books. If you want to make sure your kids read enough fiction, non-fiction, historical fiction, books that represent different cultures, and books that span time and social experiences, putting together reading plans on your own can be crazy challenging.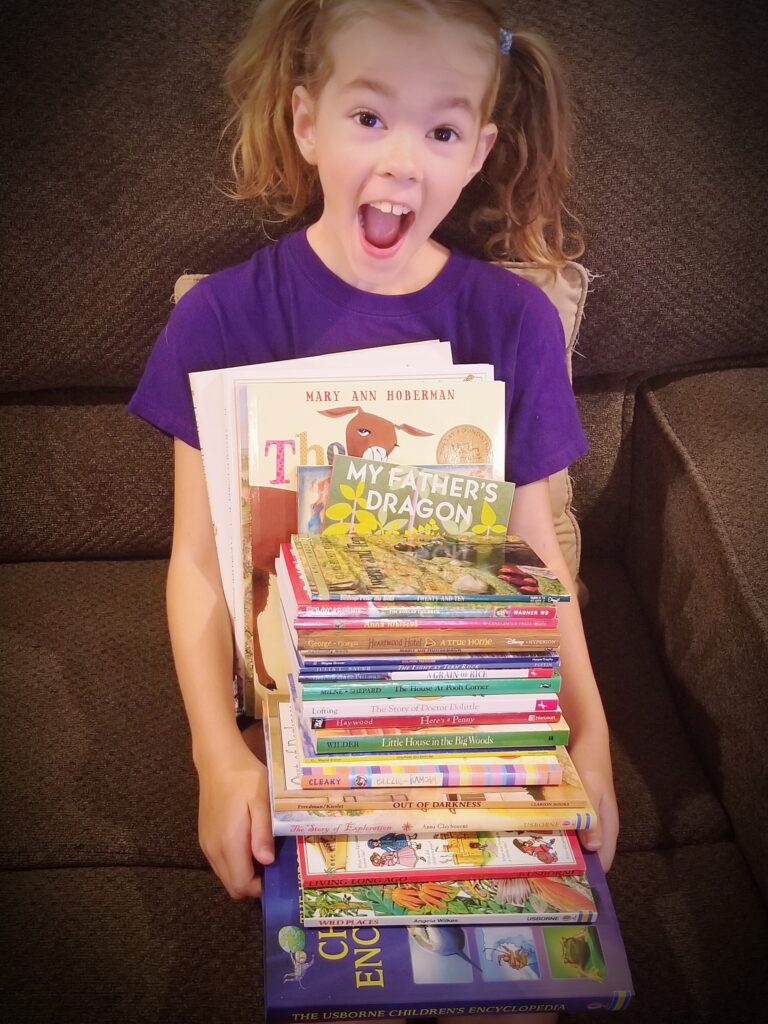 This is where BookShark seriously shines. When you study the reading lists from BookShark, you'll feel like you hit all these areas and you didn't even have to do hours of research.
Another thing that's great about BookShark is that you'll be reading orally to your child each day and discussing what you read. This is a welcome break from the traditional read-then-write approach. For my family, this brings all sorts of wonderful family discussion time and delightful tangents as we discover more about what we're learning.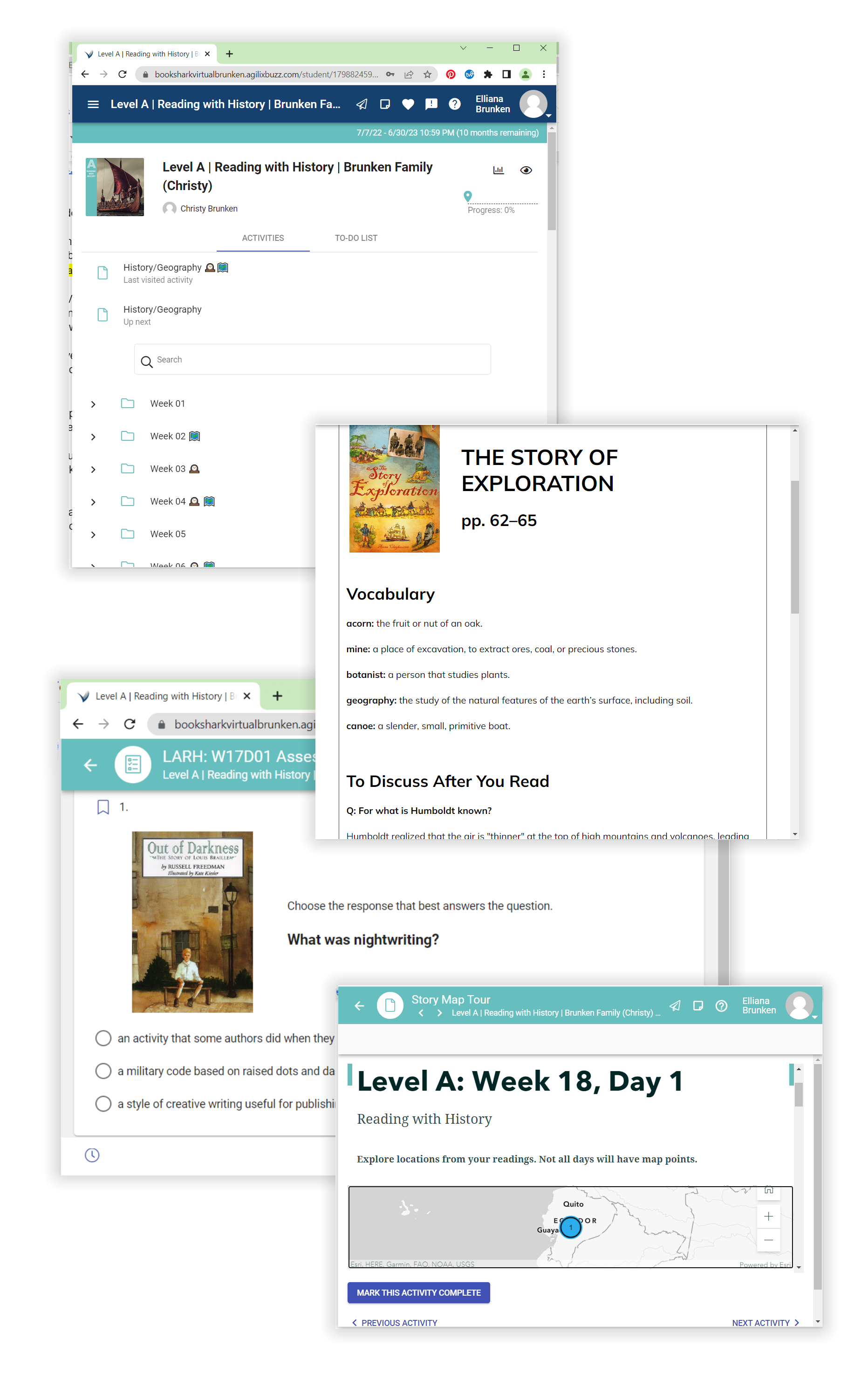 The Virtual Seat
BookShark now offers a Virtual Seat which allows you (and your child) to access a digital version of the Instructor's Guide. There's a parent login so you can use the IG digitally, easily moving from lesson to lesson with each task right there at your fingertips.
The child login allows them to mark progress as they progress through the schedule. If you've got an independent kiddo, they could do much of their work on their own using the Virtual Seat.
It also includes assessments that your child can complete after each day's tasks.
The Virtual Seat is an extra component that you can purchase – perfect for families that want a more digital option for going through their lessons and want to give their kids some
The Hands on Kit
Ok, this nerdy mom absolutely LOVES the Hands-On Kit! If you love art but hate the planning, you will adore this component just like I do.
The Hands On History kit that comes with Level A includes 9 art projects that correlate to the time periods studied and lessons. Each project comes in its own plastic bag with literally everything your child needs to complete it.
Make a log cabin, a catapult, a telegraph, even a sailing ship! This kit helps you add art to your homeschool plan without the prep and mess.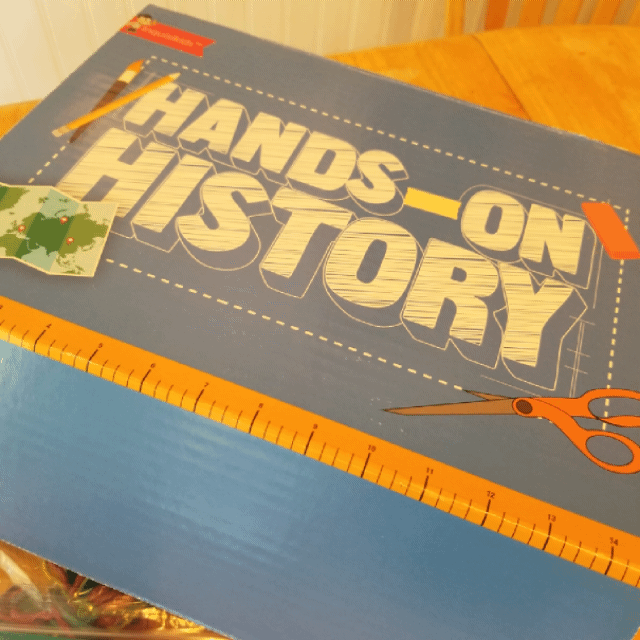 A Typical Day Homeschooling Kindergarten With BookShark:
Here's what a typical day looks like homeschooling with BookShark Level A Intro to the World: Cultures:
1. Read a few pages in the Usborne Children's Encyclopedia, and talk through a couple of discussion questions.
2. Discuss some new vocabulary words, then read a chapter in Little House in the Big Woods.
3. Find and label Wisconsin on the map.
4. Read a few pages from The Llama Who Had No Pajama
5. Do a little work in the Create-a-Calendar
After this, you'll work in any additional lesson plans you have for other subjects.
"I always recommend BookShark to parents who are eager to begin homeschooling Kindergarten but don't know where to begin. It's a tried and true curriculum that allows new homeschoolers to get off to a beautiful start." -pk1kids.com
I hope this review has helped you decide if a Kindergarten curriculum package from BookShark is a great fit for your homeschool. Many parents find it's the very best place to start. An all-in-one package includes everything you need for your first year of homeschooling. You'll absolutely love the simplicity of the prep and teaching and you and your kiddo will be off to a wonderful start!
Take a look at the Level A package.
Blessings,
Christy