Disclosure: I was compensated for my time reviewing Homeschool Buyer's Club, but all opinions are honest – I want to help YOU in your choice of homeschool curriculum!
Free Summer Homeschool Deals to Boost Kindergarten Learning
Okay, so it's summer and your kindergartener is getting a little stir crazy. You also know that school is coming up quickly. Is your child ready? Will they be able to learn and keep up? Will YOU be able to keep up with them?
The kindergarten and first grade years are such a fun age. But this is also the time when many parents begin to wonder how to start homeschooling their young ones. I have seen a lot of parents try to go full into heavy academics with their five and six year olds, only to be left frustrated with their lack of progress. Oftentimes these parents end up driving their little ones to tears while they worry that their kids are not learning enough.
When your kindergartener or even 1st grader is ready to begin a more structured school routine, it's extremely important to manage the transition well.
The summer before their school year starts is the perfect time to begin slowly structuring their play. If you take this approach you'll bring your kids into a more structured routine without overwhelming them.
So how do you start? How do you find the best curriculum, activities, and ideas to help your kiddo get a great start to school?
And for those of us who are homeschooling on a budget, how do you find what works best for your kids without having to spend so much money trying all of the things?
So let's talk about trying some great curriculum and ideas over the summer to help your kids get ready for their upcoming school year. And let's find some ways to do it that won't break your bank.
---
Disclosure: I was compensated for my time reviewing Homeschool Buyer's Club, but all opinions are honest – I want to help YOU in your choice of homeschool curriculum!
Kindergarten Freebies For Summer
Here at PK1Kids we are all about helping you find great ways to homeschool your preschool, kindergarten, and 1st grade kids. Oftentimes this means creating great free printables that you can use to help your kids get excited about their new school adventure. So since you're here, make sure you check out my Subscriber Freebies Library for new printables to help support you in teaching your little ones.
How To Find Deals On Homeschool Products
When you're ready to try some online curriculum for your homeschool kids, the best approach is to score some free trials. There are many great homeschool curriculum companies that partner with Homeschool Buyers Club to provide free trials to homeschool families.
If you haven't heard of Homeschool Buyers Club yet, you really need to go bookmark them now.When you join Homeschool Buyers Club you'll be a part of a network that provides you with all sorts of amazing deals on homeschool curriculum and learning products for your kids. Homeschool Buyers Club leverages their gigantic audience to negotiate great deals on homeschool products. You really shouldn't be missing out on these great deals.
So when it comes to finding the best deals on homeschool products, the most efficient use of your time is to simply start at Homeschool Buyers Club.
"From Reading Eggs to ABC Mouse, we always find the best homeschool deals for kindergarten and beyond through Homeschool Buyers Club!" -pk1kids.com
Summer Learning For Kindergarten
Summer is the very best time to try out new trials of different online curriculum to see what's going to work best for your kids. With the school year coming up quickly, it's time to start making those decisions about what you will use in your homeschool this upcoming year.
But I get it. Trying to navigate the sea of homeschool curriculum available to us right now is completely overwhelming. I used to go to homeschool conferences just to walk the curriculum floor and I would methodically go aisle by aisle looking at every single product out there and taking notes. That helped me tremendously when I first started homeschooling. But how do you do that for all the online curriculum that's out there?
Well let me give you a pro tip here. If you go to this link on Homeschool Buyers Club you're going to find a huge list of free curriculum trials for your young kids. Click here for the homeschool freebies. When you scroll down this list it's just like walking those aisles at the homeschool curriculum floor, but for online curriculum.
Take a look at what curriculum is offered as free trials on that page at Homeschool Buyers Club and you can sign up for every single one of them if you want to.
I do recommend taking a good look through each program you try yourself before showing your kids. Remember, as your kids' parent you know them the best. You know how they learn, what's interesting to them, and what excites them. Yes, you will be surprised along the way as you discover more about them and as they change as they grow. However, any online curriculum has an extra layer of learning associated with it. Your kids have to learn how to navigate a computer or tablet and each program is a little bit different.
So take the time to take a look at the programs after you sign up for free trials and get to know it really well before you pass that computer or tablet off to your kids.
Also, make sure that you're still keeping the fun when your kids are trying an online curriculum. Make sure to keep the work to an appropriate time limit. I suggest for kids ages 6 and under to limit them to 20 minutes at a time on any screen for any online curriculum. Also try using lots of breaks and snacks to keep them tethered to the real world while they're trying out online learning.
Again, summer is absolutely the best time to experiment with all of these different types of resources that are good for your kids. Don't we all struggle anyway during the summer to keep our kids occupied? We also don't want them to lose all that progress that they gained in the previous school year.
So play lots of games with your kids over the summer. You can even task your older kids to come up with challenges and activities to play with your younger kids. Kids are so creative and you can really stretch your parenting efforts by delegating some of this fun stuff to your older kids.
So over the summer make sure you try a lot of free fun summer activities for your kindergartener.
Also, if you do try some of the free trials available this summer through Homeschool Buyers Club, you'll get some free gifts. These include a free issue of EverBright Kids magazine which has some great educational content, fun science experiments, arts and crafts, yummy recipes, and a lot more fun stuff for your kids to explore.
You also get a full month of unlimited access to the eSpired Library which has tens of thousands of books, audiobooks, videos, magazines, and more.
These are great ways to inspire summer learning in your kids. Oftentimes the hardest struggle is that we don't know where to start. So just grab a few free trials from Homeschool Buyers Club and explore their free gifts. You'll be in a great place to find out what your kids interests are and give them the best start to the upcoming school year.
How To Keep Kids Learning Throughout Summer:
Play a game every day.

Read a book or two every day and do a

fun reading challenge

.

Sign up for some

free curriculum

through

Homeschool Buyers Club

and try some super fun learning programs together.

Give your child a special journal and lead them through drawing or noting what they learn throughout their summer.

Give your child a daily or weekly learning challenge.
Boost Kindergarten School Readiness
Developmentally speaking, there's a huge jump between a 5 or 6 year old playing and having fun to suddenly being expected to do a full school day. You want to make sure your kids are ready for an official school routine, but you don't want to choke out the fun in their lives. They're young kids who learn through play. Making sure that their experiences in school are fun and enjoyable is the best way to protect both of you against school resistance in the future.
So how do you get your kindergartener ready for school without sacrificing fun and play?
My biggest suggestion for this is to take what they're already doing throughout the day and then loosely schedule it into a routine that they can follow.
I know many parents don't like to use strict schedules with their younger kids, but a printed schedule can be an incredible tool to get your kids excited about school. It gives them something to see and follow and builds their sense of accomplishment when they complete the different tasks.
I have a wonderful, simple, manipulative schedule that I use for my young kids for school. It allows me to either write out or draw up to five different things for them to do during the day. My little ones then get to put a velcro star on the items that they completed throughout the day. I absolutely love this approach to scheduling your young ones because it's super fun for them to put a star on the things that they did. It's also incredibly simple and only uses a handful of tasks. (p.s., you can get this schedule for yourself for free if you sign up for my Subscriber Freebies Library.)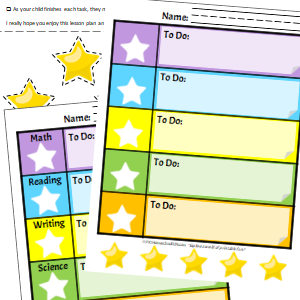 Once you have a super simple schedule that is crazy fun for your little ones, you can begin putting their normal daily tasks onto the schedule.
But don't get carried away with this. Instead of adding things like math, reading, science, etc. – keep it light and fun. Add things like morning snack and play time outside. Add reading a book with Mom or Dad. Other great ideas for a first schedule for your kids are to take a morning walk, watch an educational cartoon (we called this school movie,) play with play-doh, Legos, etc. We also use blanket time which is when I spread out a blanket and train my little ones to stay on the blanket and play with some toys quietly while I teach my older ones.
Add some fun school things to your kiddos' lives like a special backpack, pencil box, and desk name tag, and your child will be ready for school!
"Summer is the perfect time to try some free curriculum and see what works best for your kids and you. Head to Homeschool Buyers Club first for the best collection of free trials and deals for your summer learning." -pk1kids.com

Free Curriculum To Prepare Your Child For School
The next step of course is to begin focusing on learning. Begin talking to your kids about how much they're going to learn and encourage them whenever they present something new that they've discovered or memorized.
You can explore some fun online programs that will help them get excited about learning. Take a look at all the programs offered on Homeschool Buyers Club and pick a few to try with your kiddo. This will help you gravitate towards the concept of school being about learning as well as having fun together.
5 Tips For School Readiness
Begin turning normal play and activities into a gently organized flow

to help your child prepare for a more structured day. Activities like reading to your child, playing a game with them, even watching a movie – these can all be captured on a

fun schedule

that will help your child prepare to have a fun school day.

Try out some fun curriculum freebies

to find some educational programs they love.

Focus on helping your child get excited about school.

A special backpack, lunchbox, and pencil case with fun markers go a long way to help your child feel there's something super special about going to school.

Don't be stingy with the praise and rewards

. If your kiddo is trying to write letters and draw pictures, focus on the positive feedback. (Pass out those fun stickers!)

Give your child plenty of opportunities to try new things.

Kids need the experiences of going beyond their comfort zones, but doing this at home is the best way to start. In a comfortable environment, kids can try new tasks and work through them without the overwhelm of being in a completely new environment.
So when it comes to getting your young kids ready for school, be sure to keep things light and simple. Gently move them towards a fun school routine with only a handful of tasks. Get them excited about the upcoming school year with fun school supplies and items. And use your summer wisely by trying out a few free online curriculum trials from Homeschool Buyers Club. Don't forget to score those 3 great free gifts!