Teach your Kindergarten through 3rd grade kids US Geography with this literature based, Charlotte Mason inspired US Geography Curriculum from Beautiful Feet Books.
Disclosure: I was compensated for my time reviewing Beautiful Feet Books, but all opinions are honest – I want to help YOU in your choice of homeschool curriculum!
Beautiful Feet U.S. Geography Through Literature Pack K-3
I'll be honest, I'm fairly new at literature based study – but I'm quickly falling in love with it. My oldest will be in 8th grade next year and I feel like it's my last chance to finally get that homeschool picture I have in my mind's eye. I want to be all in the same room together, snuggled up with books and doing projects together. I'm terrified of homeschooling high school (yikes!) so I feel like this upcoming year really is my last chance for that homeschool dream I have.
When we took a dive into the new U.S. Geography Package from Beautiful Feet Books, we landed right into that perfect homeschool picture! The package we got to explore was for Kindergarten through 3rd grade, but you know all my kids (from age 3 to 13) had such a great time exploring the curriculum and books together. 
This curriculum really is beautiful – and it's a wonderful homeschool geography curriculum to teach US Geography to your younger kids.
30 minute lessons
1 year of US Geography Curriculum
Intended for grades K-3rd
Literature Based
Secular Text
Optional Free Bible Verse Packet download
Homeschool U.S. Geography for Kindergarten through 3rd Grade
Kids love having books read to them, and in these younger years a literature based curriculum really makes the most of this. The U.S. Geography Through Literature Pack K-3 from Beautiful Feet uses a wonderful mix of hands-on activities, deep dives into mapwork, nature study, culinary connections, and exploring more through other resources. 
Children make realistic connections to the places you study as a family. They read, make, visit (virtually), eat, and draw about each region in the United States. Lessons are short (about 30 minutes) and are easy to teach.
It's simple, effective, and… beautiful.
Literature Based US Geography Curriculum For Homeschool
Like I mentioned above, I'm new to literature based studies. If you are too, you might wonder how this looks. Originally I thought literature studies would start with reading an entire book and then doing related activities after you're finished. I guess that's just how my logical mind works!
Instead, the Literature based US Geography Curriculum from Beautiful Feet works a little differently.
Teach Geography With Literature
Most lessons in this homeschool geography curriculum include reading a few pages from various books. It's set up to use the literature books as textbooks in a way. For example, you may read a few pages from the Dr. Seuss book There's a Map on My Lap, then read about highlands and mountains from Geography From A To Z. While studying the Northwest Region, you'll read parts of the book Grandma Gatewood Hikes the Appalachian Trail.
Picture books like Mike Fink, Apples to Oregon, Southwest Sunrise, and Follow the Drinking Gourd tell wonderful stories set in states and regions studied. You'll read a small portion of these books at a time, then branch into related activities like looking up unfamiliar words, marking the places mentioned on a large map, coloring the state pages in The United States Activity and Fact book, and taking a video tour.
Hands-On Projects
In the first unit which focuses on map skills, kids complete some hands-on activities to get them familiar with directions, map reading, and geography. A link in the beginning of the book takes you to a free download of their Picture Packet – you'll print this to use with these activities.
---
---
Develop Significant Map Skills
One of the core activities in this homeschool curriculum is marking on the blank 36" X 24" foldable map. With nearly each lesson, students will be adding names, trails, landmarks and more to this big sturdy paper map. This gives kids a reference that they keep going back to each day as they create their map of the United States – all from stories, lessons, and virtual visits.
Learn More By Virtual Visits & Digging Deeper Links
I absolutely love that all the lessons in the Beautiful Feet US Geography Through Literature curriculum include multiple links to virtual visits. This is something I've always loved doing with my kids – with so much technology at our fingertips it's a no-brainer to show kids videos of places they're learning about.
Every lesson in this homeschool geography curriculum includes many links to websites where you can show your kids videos of the places they are learning about.
In the daily Dig Deeper and Explore Your World sections, you'll find plenty of enriching links to learn more about related topics.
Connect With Geography Through Culinary Connections
If you love to cook with your kids, you'll absolutely love the Culinary Connections section that appears often throughout this book. Make a Georgia Peach Cobbler, a Louisiana Gumbo, or a northeastern Whoopie Pie! You'll find links to recipes in each Culinary Connection, along with a compelling reason to get cooking.
Rabbit Trails
For families that absolutely love to read, you'll be delighted with the Rabbit Trails section that precedes each unit. This is an extensive list of books you can check out at your library that correspond to what you'll be studying in that unit. So if you've got a bookworm like I do, be sure to take advantage of these book lists.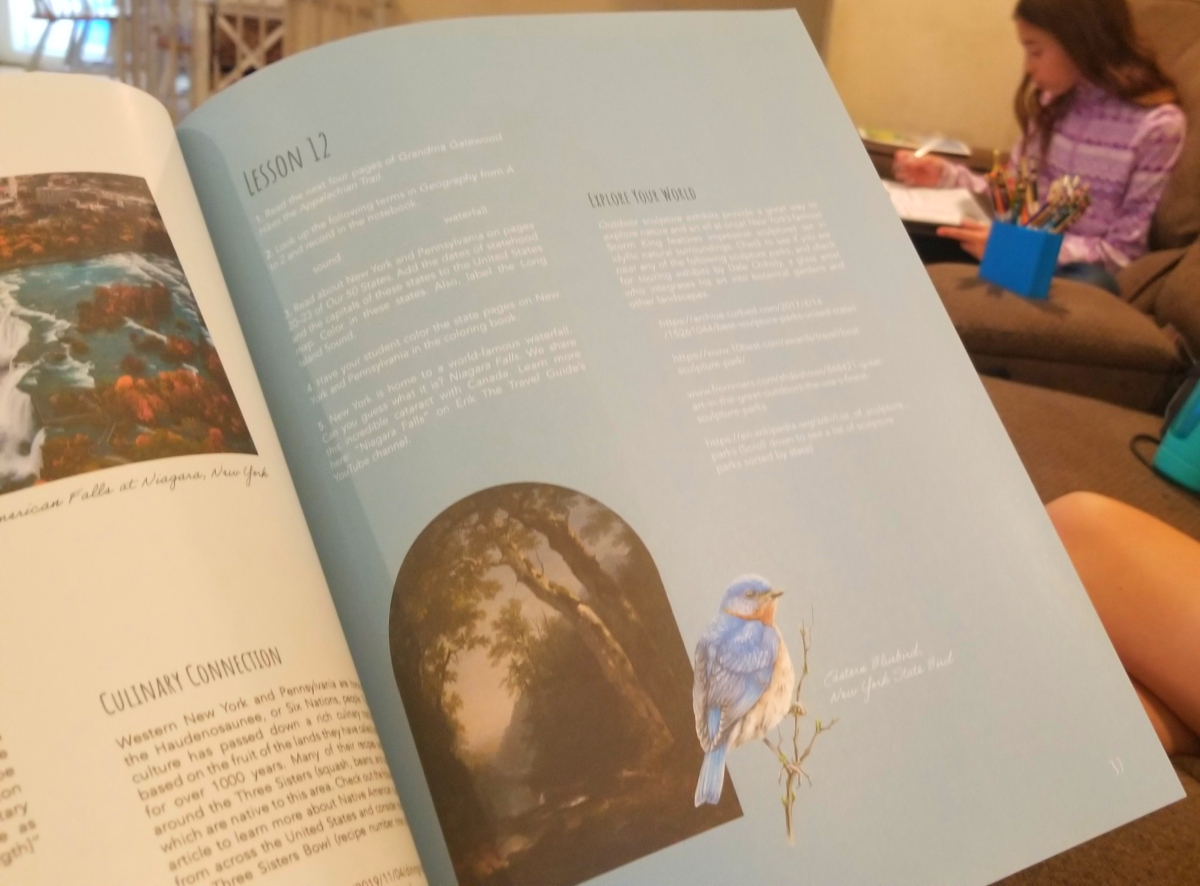 ---
I always like to help people envision what a typical lesson looks like. It's hard to commit to something on the guess that it might work for your family dynamic. 
So here's how a typical lesson would play out:
Using the

Our 50 States

book as a guide, label a few landmarks on the 50 States Map.

Read

Follow the Drinking Gourd

and discuss using the stars for directions.

Trace the family's journey from the book onto the 50 States Map.

Draw the "drinking gourd" constellation

Read about Ohio and Indiana, then color in these states on the map.

Color these states in

The United States Activity and Fact Book.
Do more if you want:
Take a night hike with just a flashlight and talk about it.

Visit a website link that will help you find the Big Dipper.

Practice finding constellations, or visit some a website that shows the current night sky constellations.
---
Ways To Help Kids Learn U.S. Geography:
Visit places virtually.

Kids make connections to things they experience, so being able to visit places through virtual tours really helps them remember the places they learn about. US Geography curriculum from

Beautiful Feet Books

includes extensive links to wonderful virtual tours and videos.

Read literature that makes places come alive.

There are so many wonderful picture books that help kids learn about different places simply by reading great stories. A literature based geography curriculum from

Beautiful Feet Books

taps into this great resource.

Choose a curriculum that includes creating their own map.

Kids remember more of what they learn when they

create

with the information. By incorporating map creation into geography lessons, curriculum like the

US Geography Pack from Beautiful Feet Books

makes US Geography lessons incredibly effective.

Connect with food.

Try out recipes that are popular in different states and regions. As you cook different dishes, talk about what life is like in those states and why they might use certain ingredients. The Culinary Connection portion of the US Geography curriculum from Beautiful Feet Books helps you do just that.

Allow kids to explore more about places that interest them.

When you allow your kids to follow their own curiosity and interests, it gives them ownership of what they're learning. It's helpful to use a curriculum that offers plenty of links and resources for learning more about topics your kids are interested in. If you need this in your life, take a look at the

U.S. Geography Packs from Beautiful Feet Books

.
---
The US Geography K-3 Pack from Beautiful Feet Books is Our Top Pick For:
Eclectic Homeschoolers

Charlotte Mason

Minded Moms

Families That Like To Cook

Nature Lovers

Kids Who Love Picture Books

Families With Multiple Kids In Lower Elementary

Anyone Who Loves

Learning Through Literature
Subscribe to PK1Kids on YouTube:
P.S. While you're here, access my entire subscriber only freebies library to get unlimited free printables for your kids! Subscribe to my list to get access: