If you can't wait to homeschool your preschooler, take a look at Sonlight's Pre-K curriculum to give your kid the very best start to homeschooling.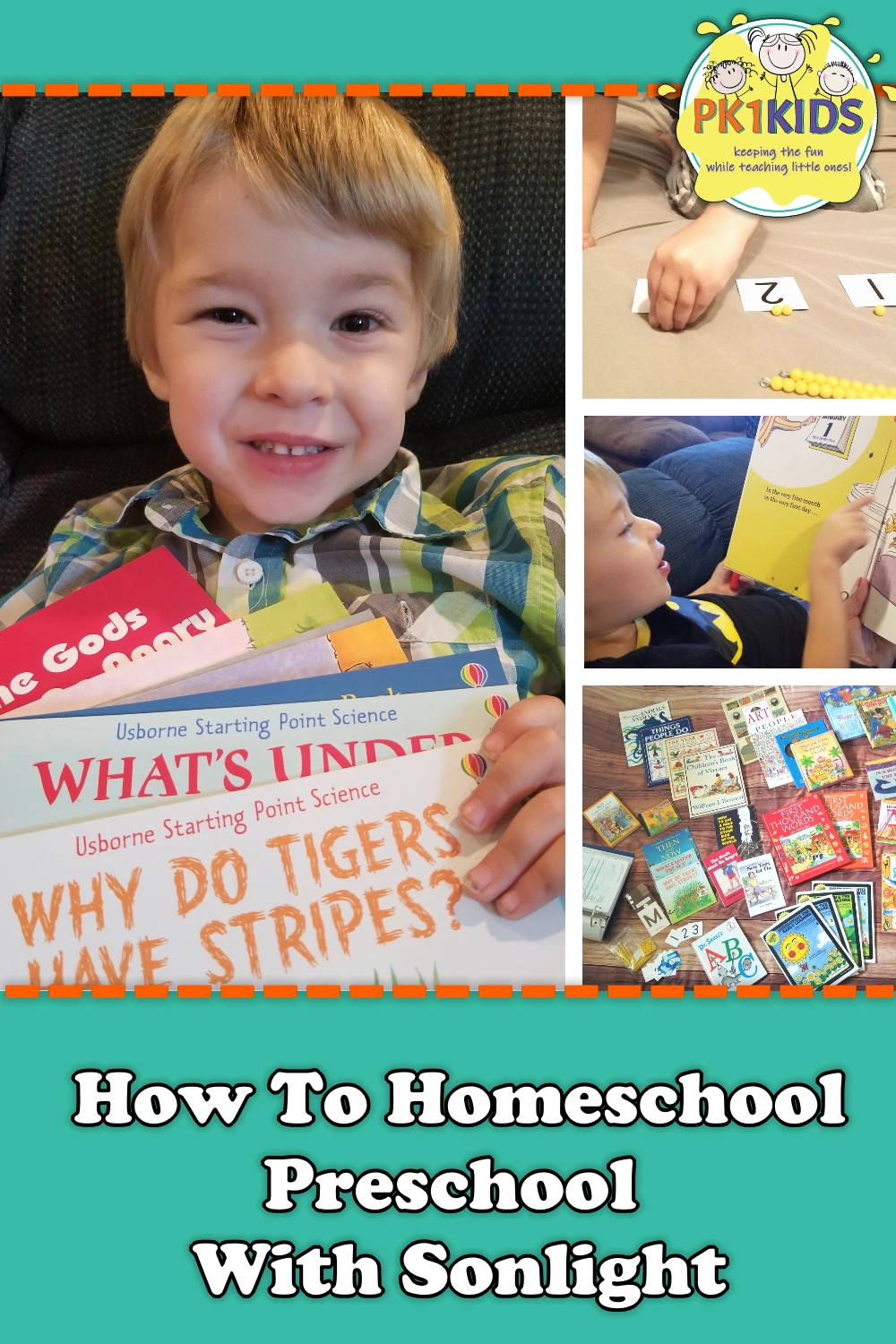 Disclosure: I was compensated for my time reviewing Sonlight's Pre-K Curriculum Package, but all opinions are honest – I want to help YOU in your choice of homeschool curriculum!
How To Homeschool Preschool With Sonlight
I remember when my very first child began learning colors and letters and numbers. Something lit up in me and I just knew I wanted to homeschool her. I was so excited to start! Every homeschooler wrote me off whenever I asked questions about it because she was so young.
I get lots of questions now from moms in that same stage of excitement. I try not to discourage them because I know how they feel. If you just can't wait to start homeschooling your child, go for it! As long as you're focused on the fun of learning, you'll be building that homeschooling relationship with your child right away and helping your kiddo get excited – and ready – for school. What a sweet time it is to be sitting with your child and teaching the world to them.
If you're ready to start homeschooling your preschooler and want a great curriculum to get you started in the right direction, you'll have the best experience with Sonlight's literature based complete pre-k curriculum.
The best complete preschool curriculum for your homeschool
One of the best things I have always loved about Sonlight curriculum is the expert picks of literature. I always struggle with this feeling like I'm missing out on all the great books my kids are "supposed to" be reading.
When you open up a Sonlight box, you know you're not missing a thing. There's something so sweet about snuggling up with your kids and exploring the world together in a book.
The great thing about this pre-k package is that it's a complete preschool curriculum. You'll cover absolutely everything a preschooler should begin learning about before they enter Kindergarten.
You'll introduce your kids to letter, numbers, science, and the world in a simple, easy flow of reading and talking.
What Does A Typical Day's Lessons Look Like With Sonlight's Pre-K Curriculum?
If you choose to follow the Instructor's Guide exactly, each week you'll gather the materials you need for all of that week's lessons.
A quick glance at the IG (Instructor's Guide) will show you every single thing you'll need for the week. Pack those items into your Sonlight bag or other bag or basket.
When you start your lessons each day, you'll simply follow the IG step by step. (scroll down for an example of a typical day's lesson plan.)
Literature based preschool curriculum for pre-k at home
My son absolutely loves books. Once we get started reading books he just asks for more and more!
I really think that these times of snuggling up with my kiddo and reading stories from The Lion Storyteller Bedtime Book are creating memories we will have forever.
We also love looking through the First Thousand Words book and playing I Spy with them. It also is fun to see how many words he already knows.
Using a literature based preschool curriculum is a great way to build your child's language skills. The more books you read to your kids, the more words they'll be exposed to and this all helps their developing skills. It also shows helps them value books and see them as a source of information and curiousity.
If you want to make sure your child is ready for Kindergarten, choosing a complete pre-k curriculum can help you feel confident that your kiddo is ready.
How to make sure your preschooler is ready for Kindergarten
Read to them often, every day
Introduce them to number sense, but keep it simple
Familiarize them with each letter of the alphabet and practice letter sounds with them
Begin teaching them about nature and how things work
Talk about people – different countries, types of jobs, etc
Include them in everyday tasks around the house
Do all this easily with the Pre-K curriculum from Sonlight
Teach readiness skills with Sonlight pre-k curriculum at home
A lot of parents worry if their kids will be ready to go to Kindergarten when it's time. Or maybe you want to make sure you're all ready to homeschool Kindergarten when your child is old enough.
We really like all the readiness activities in the pre-k curriculum from Sonlight. We read through Dr. Seuss's ABC book and used the number tiles and beads to build a little bit of counting and number sense each day.
I also love that each week there's a page or two for your child to start practicing tracing letters and numbers in a fun way.
This package also comes with 4 readiness booklets. The Developing the Early Learner series is easy to use and helps you develop your child's strengths and readiness for Kindergarten work.
"We love the simple and easy progression towards Kindergarten readiness that you get with the literature based pre-k curriculum from Sonlight." -pk1kids.com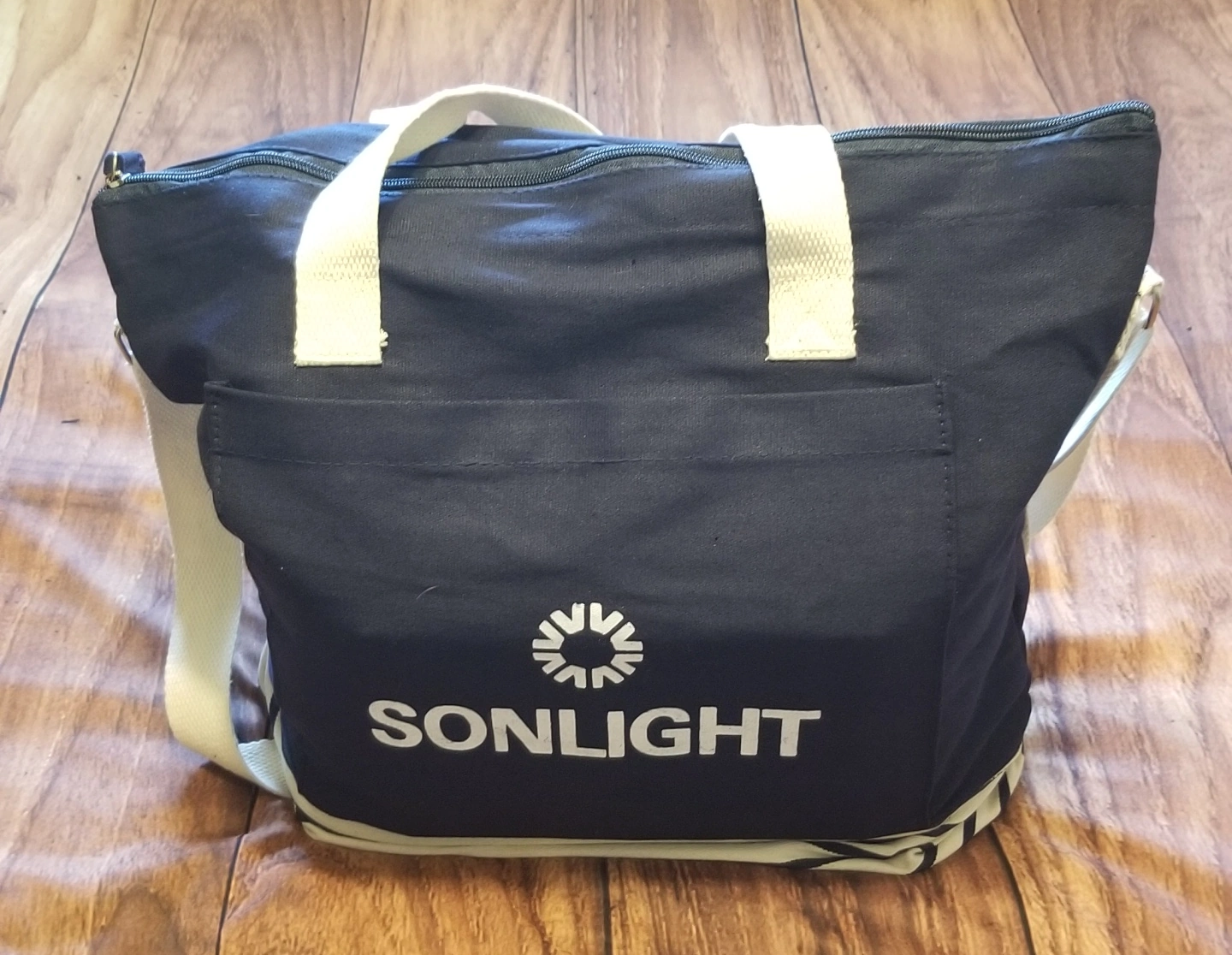 What do you do with a preschooler all day?
Many parents feel at a loss as to what to do with a preschooler all.day.long. Remember that play is learning and it's ok for your child to play all day. When you think they're ready for some more structure, however, consider a preschool curriculum package from Sonlight.
Spending just a little time with your preschooler reading books, completing activities, and "doing school" will help everyone get some constructive time in each day. Your preschooler will have something to do, you'll have spend quality time with your little one, and you'll all be ready for Kindergarten.
Sample Lesson Plan
Read a Bible story
Talk about the memory verse
Read from The Lion Storyteller Bedtime Book
Read about an animal
Read about "Me" in First Thousand Words
Practice writing the letter "M" in sand
Trace some geometric shapes
Practice counting beads and matching them to number tiles
Read a few pages from The Berenstain Bears' Big Book of Science and Nature
Do 2 pages in the Developing the Early Learner workbook
Wash a cup and bowl (Practical Life Activities)
Christian pre-k literature based curriculum
Beginning your day with a Bible story is a wonderful way to build a habit of daily devotionals in your family.
The Pre-K package from Sonlight includes daily Bible readings from the book 101 Favorite Stories from the Bible. Natural discussions from these stories begin a great routine of daily Bible discussions.
You'll also be introducing memory work with a verse each week. You might be surprised at how easily your preschooler memorizes Scripture when you talk about the same verse every day each week!
5 Things We Love About Sonlight Pre-K Curriculum
It's Open & Go: So incredibly easy to prep your bag and open and go each day.
We Read So Many Beautiful Books: Exploring the world through literature builds a sweet connection between mom and child.
The Math Readiness Is Short & Simple: The math readiness portion is a simple introduction to numbers that's not too rigorous and keeps the fun.
Peaceful & Effective Introduction to Phonics: The tactile letters are awesome, and the various activities give gentle instruction to letter sounds.
We Do Practical Activities Together: We loved the practical life skills activities that are included in each week. From washing a bowl to grinding a stick of cinnamon – it's a peaceful and fun way to further your child's development.
The preschool homeschool curriculum that gives you the best start to homeschooling
I find myself wishing I had started our homeschool journey with a package from Sonlight for my older kids.
Now that my youngest is turning 4, I'm looking forward to using a more structured preschool curriculum with him.
I know that if I can start him off with great literature and a well balanced – and organized! – school plan, we will all benefit from it.
The preschool curriculum from Sonlight gives you such a great start to homeschooling. It teaches you how to prep weekly to make things so much easier throughout the week. It also helps you do a little bit in each subject each day and shows you how much ground you really can cover in a year.
"We love all the snuggles and stories we share while using Sonlight's Pre-K curriculum. My son loves all the beautiful books and I love how easy it is to just open and start homeschooling each day." -pk1kids.com
Watch the PK1Kids Video Review of Sonlight's Pre-K Package
Enter to win this entire package from Sonlight!
P.S. While you're here, access my entire subscriber only freebies library to get unlimited free printables for your kids! Subscribe to my list to get access: