Unlock the fun in Kindergarten science with an all-in-one literature based curriculum from Sonlight. No prep lessons and fun experiments all ready to go make this kindergarten science curriculum a homeschool favorite.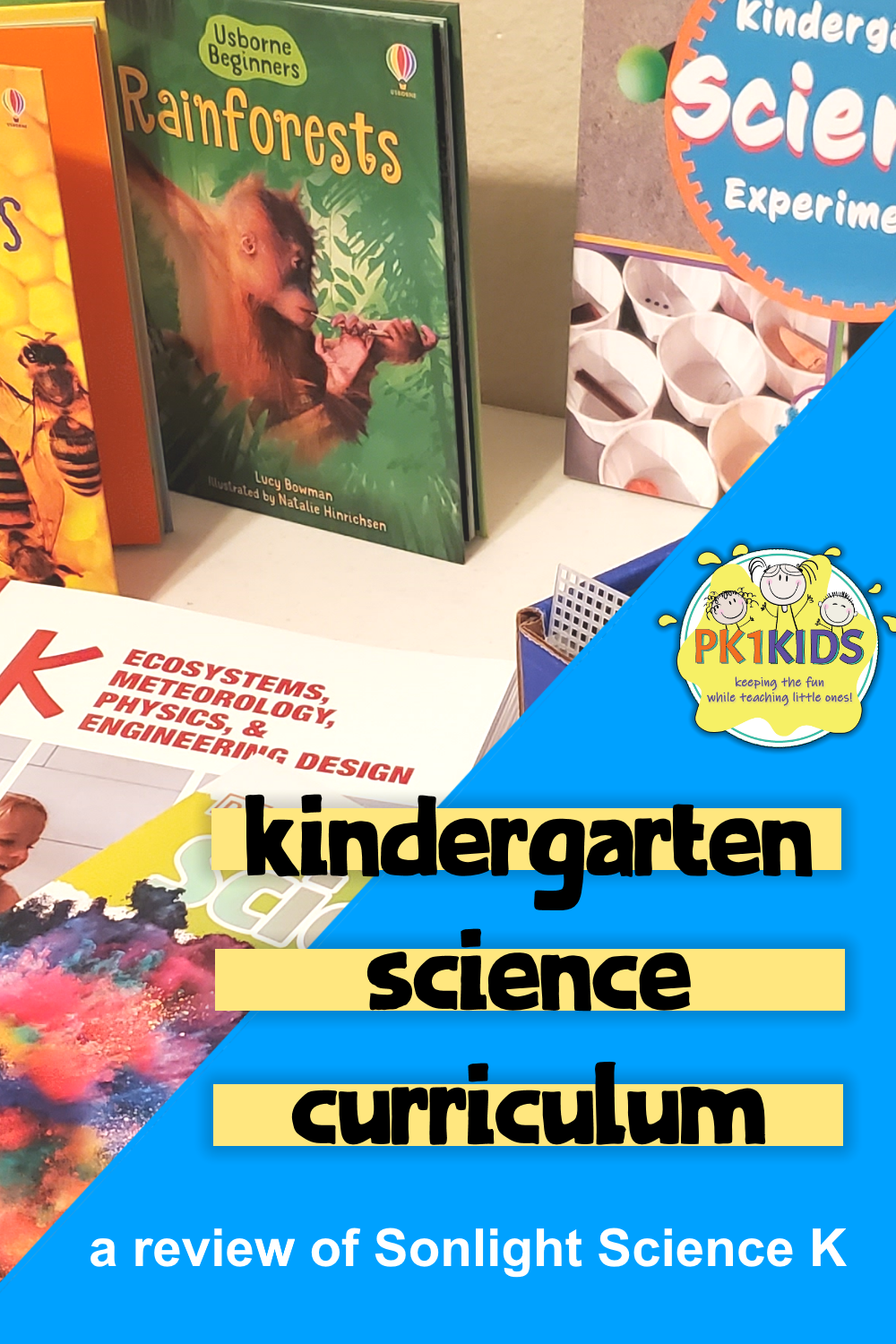 Disclosure: I was compensated for my time reviewing Sonlight's Science K, but all opinions are honest – I want to help YOU in your choice of homeschool curriculum!
Teaching Science To Your Homeschool Kindergartener
Science is one of the most thrilling subjects to dive into with your new homeschooler. And there's nothing quite like watching the wonder in their kiddos eyes when they watch their first volcano "explode" or discover all the amazing gems and minerals in their rock collections. The more science exploration you do with your littles, the more you crave!
For years I taught my younger kids science-y things by just piecing things together – science kits, random books, and whatever free worksheets I could find online. This was a cheap approach and kept me from getting too tied down to a scope and sequence – but it also left us always wanting more.
I'm all about prioritizing the peace in our homeschool curriculum, but when it comes to science – I also don't want to feel like we're missing out on all the good stuff.
Do you ever feel this way when looking for a good science curriculum?
You can always DIY your homeschool science and just have fun exploring the world together. But if you really want to ignite your kids' curiosity and interest in science, I suggest purchasing a kindergarten science curriculum like this one from Sonlight.
Sonlight Science K: Ecosystems, Meteorology, Physics, and Engineering Design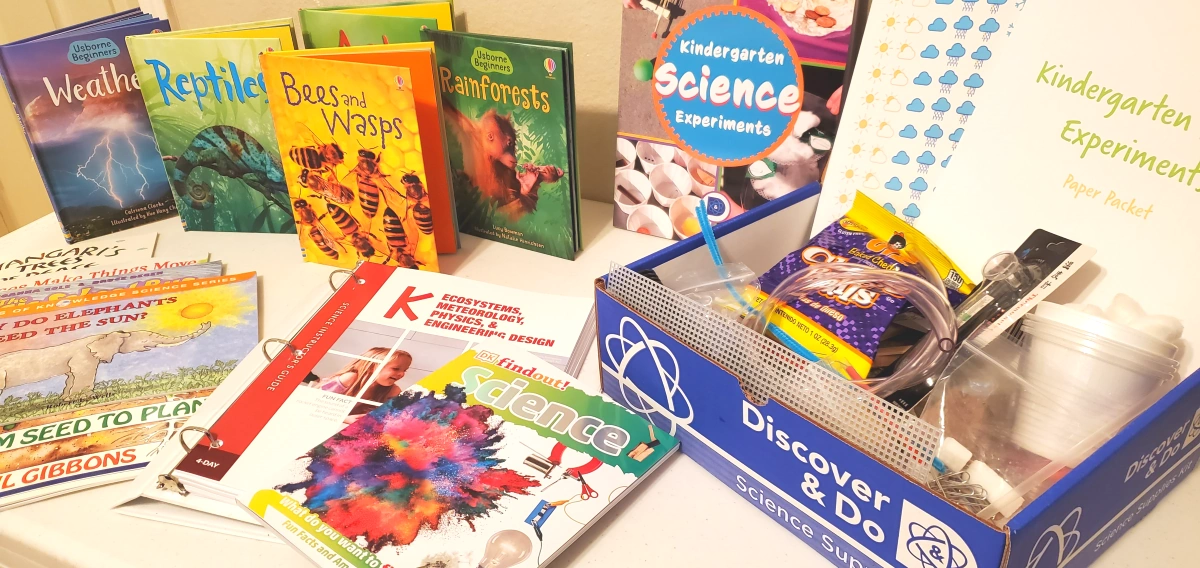 Science K from Sonlight Includes:
Instructor's Guide (4 day or 5 day)

11 Literature Books

Discover & Do Instructional Book for 36 Experiments

Discover & Do Experiment Materials

Discover & Do Experiment Paper Packet

Videos of Each Experiment
My littles and I just got to take a really close look at this Science K package from Sonlight. We've used Sonlight curriculum before, so the process is very familiar. We've always loved how easy it is to know exactly what to do for each lesson. And nothing beats snuggling up with a good book and discovering science together.
Sonlight has always been one of the main go-to companies for literature based curriculum. I love this approach to science as well. My kids loved looking through the books – and it was an easy way to see which topics they were most interested in.
We also loved that this particular kit included life science, weather, and some engineering. My kids loved the experiments especially!
But wait, do you really need a kindergarten curriculum for homeschool science?
A homeschool science curriculum for your kindergartener can make science a fantastic part of your homeschool day. The four main pillar subjects of homeschooling are language arts, math, social studies, and science. Homeschooling kindergarten often focuses mostly on learning to read and beginning to work with numbers up to 100. This covers your language arts and math. Social studies can be covered simply – by learning about the world and our place in it.
But science – science is where the real fun is at!
Using a science curriculum for your homeschooled kindergartener is the best way to get to all the fun there is to be had in kindergarten science.
This is one of the reasons we absolutely loved Sonlight's Kindergarten Science curriculum. Your kindergartener will get to explore physics, meteorology, ecosystems, and engineering design through simple daily lessons that always hit the mark.
And if you use your Instructional Guide in the way that works best for your homeschool style – you'll find it brings flexibility and peace to your homeschool day.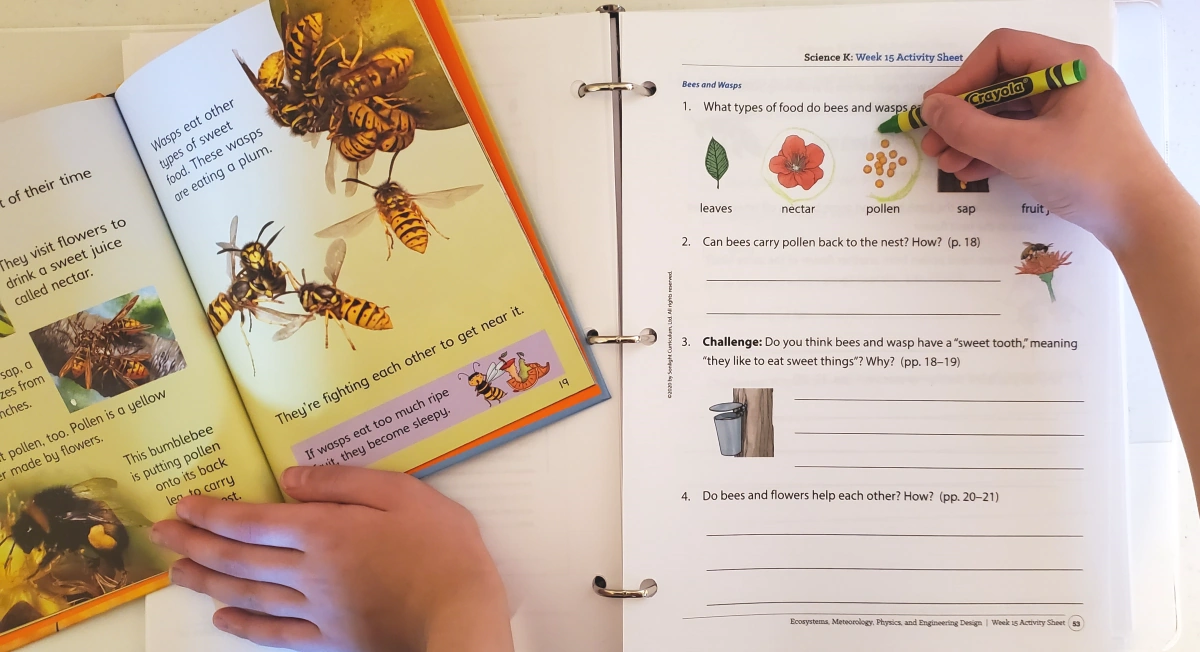 What's the Best Science Curriculum For Kindergarten?
A great homeschool science curriculum for kindergarten kids is fun and engaging. It leaves lots of time for exploration and of course includes lots of great experiments. It's important that a kindergartener's science curriculum doesn't include too much textbook and workbook busy work. A little is ok, but kids should have plenty of time to discover through play and activities.
The Kindergarten science curriculum from Sonlight has all of these qualities.
It's literature based so each day you'll read a bit from a science related book. You'll discuss some ideas and questions with your kiddo from the reading. Then, your child will do a couple of worksheet activities.
Finally, you'll end the week with a fun science experiment or activity that deepens understanding of the week's lessons.
And best of all, it's all organized and laid out for you in the Instructor's Guide. This is a 4 day or 5 day schedule that tells you exactly what to do each day.
Easy Science Experiments For Kindergarteners
Science experiments don't get easier than this! It's so nice to have all the materials ready to go in the Discover and Do supply kit.
When you're ready to do the week's experiment, you'll turn to the activity number in the full color experiment book and follow the instructions. We really loved how organized the experiments are and how easy it is to put them together.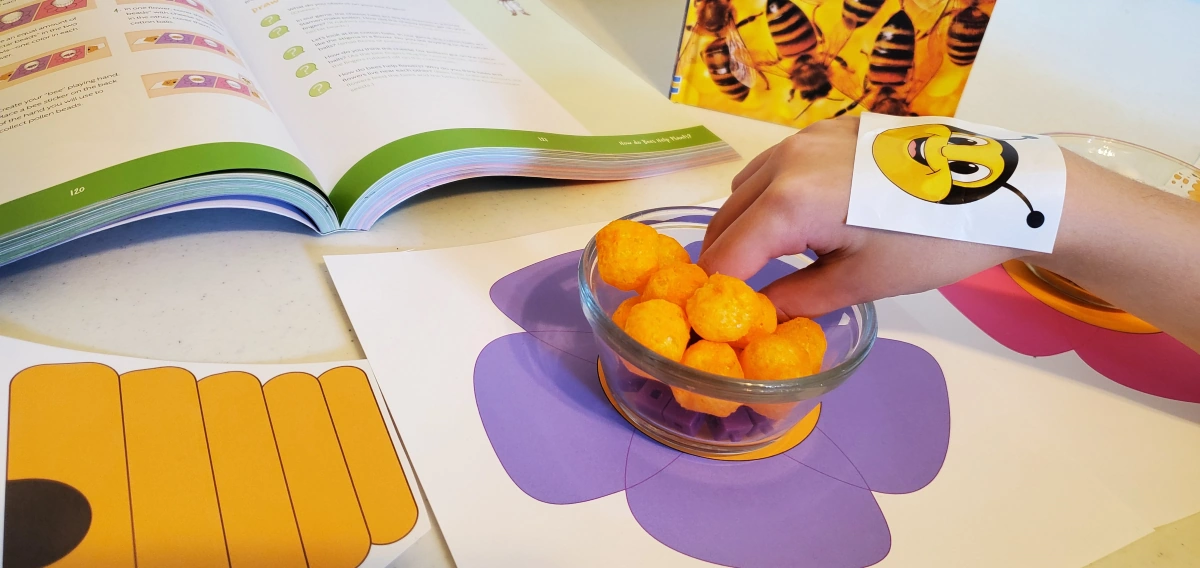 ---
What should I be teaching my child for kindergarten science?
Most homeschool science curriculum programs for kindergarten cover basic ideas in physical science, life science, Earth and space science, and engineering and tech.
Using a homeschool science curriculum for your kindergartner is a great way to cover all these disciplines in an age appropriate way. If you're looking for a great curriculum for science, look into Sonlight's literature based kits. They use books as a base of learning and include all the materials you need to do related experiments.
3 Things Kindergarteners Should Study In Science
According to Next Generation Science Standards, Kindergarteners typically study the following:
Physics – pushes & pulls

Life Science – plant, animal, and human needs and their environments

Earth Science – weather and climate
Instead of putting together your own science curriculum, save a bunch of work by getting the Science K program from Sonlight.
---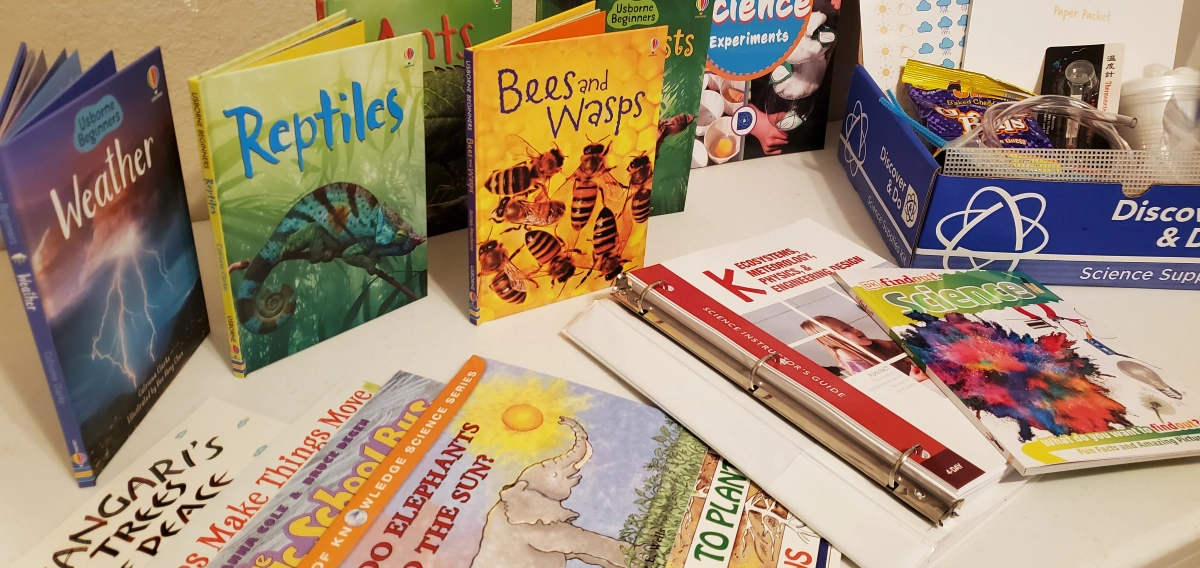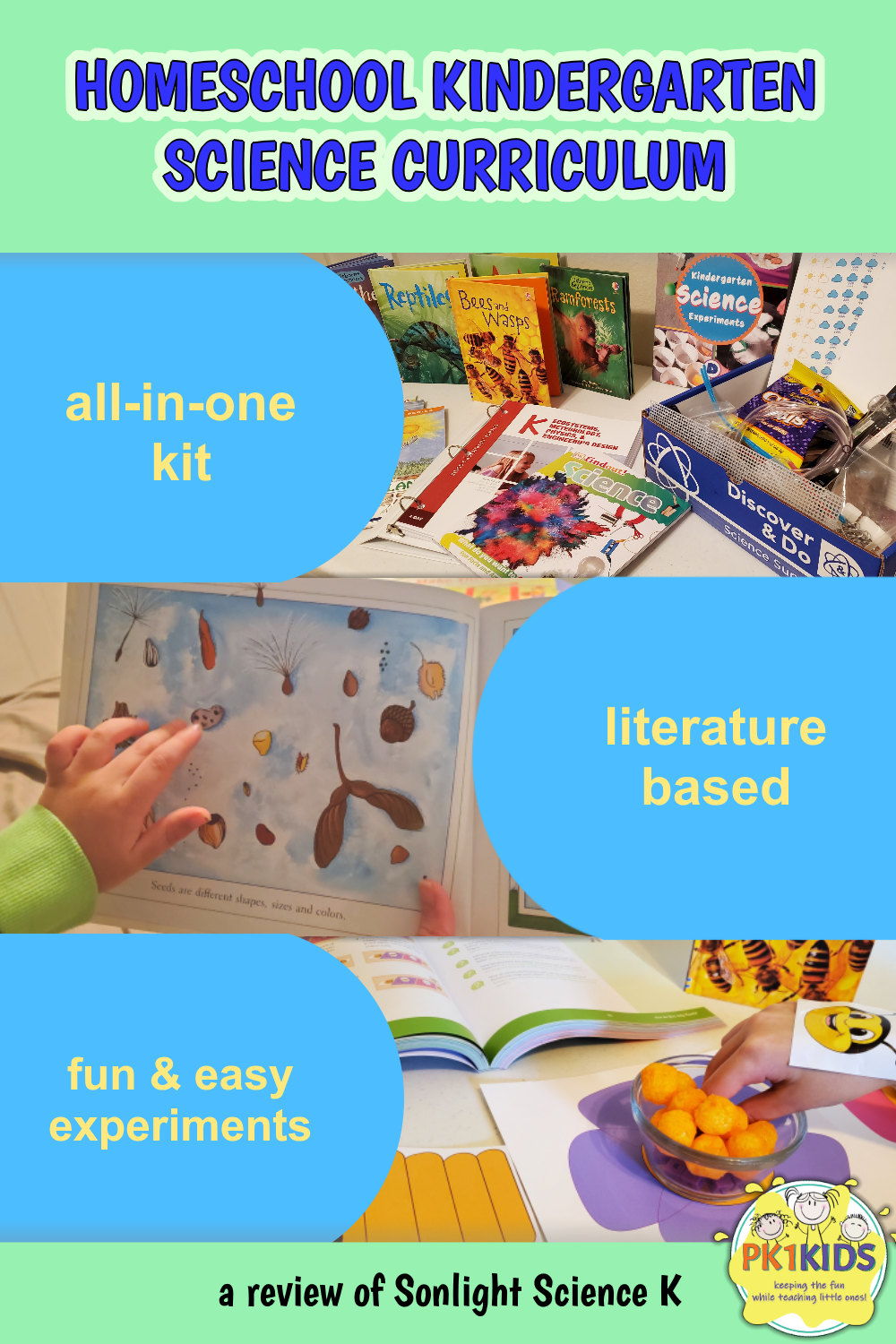 P.S. While you're here, access my entire subscriber only freebies library to get unlimited free printables for your kids! Subscribe to my list to get access: