Finding an online learning program that can serve as an all subjects curriculum for preschoolers has been nearly impossible – until now. Meet Homeschool+, an incredibly engaging curriculum for your youngest learners.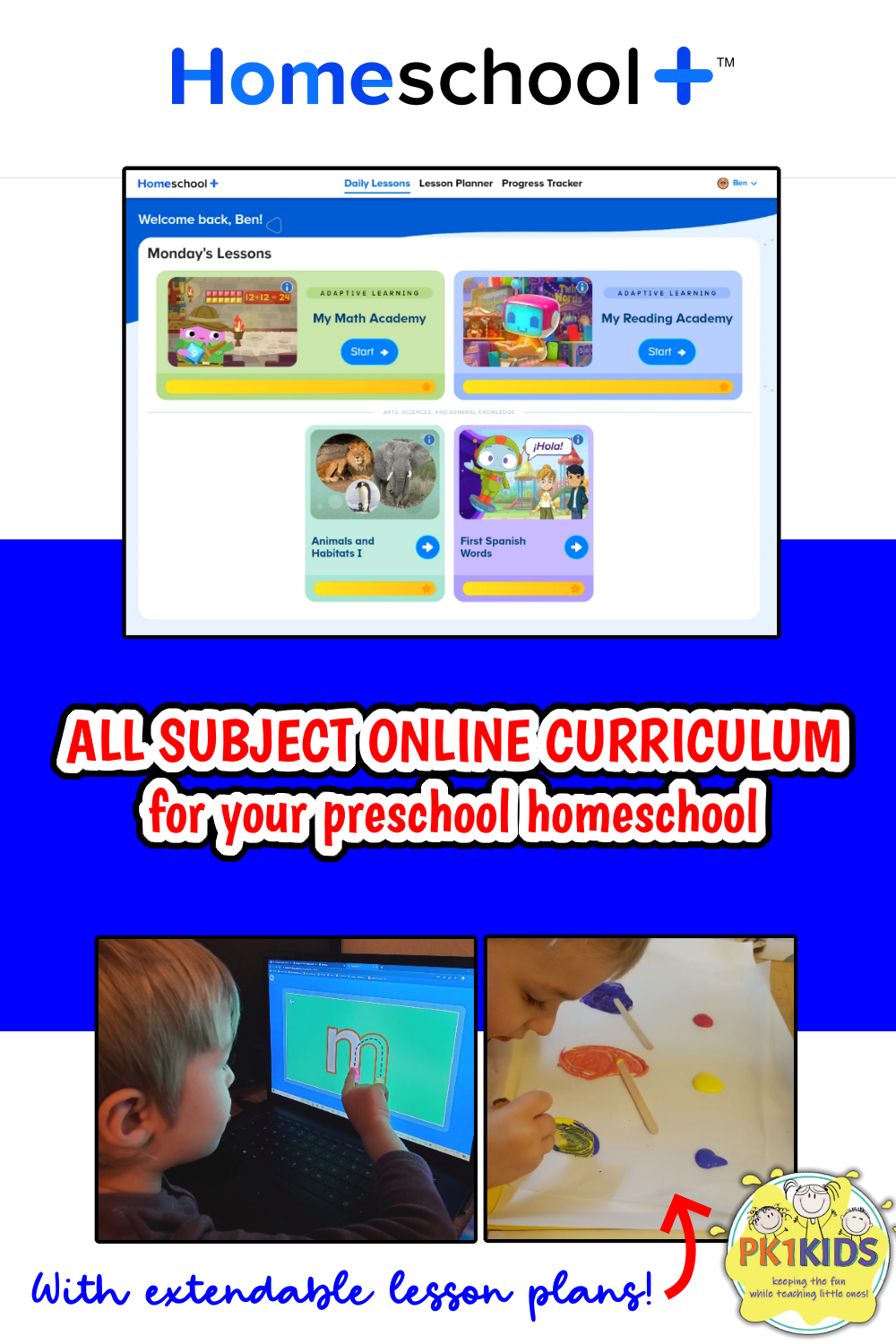 Disclosure: I was compensated for my time reviewing Homeschool+, but all opinions are honest – I want to help YOU in your choice of homeschool curriculum!
I would love nothing more than to put my homeschooling on auto-pilot with some amazing online program that can serve as a complete curriculum for my preschooler. But finding a program that can serve as a complete curriculum – not just "fun learning games" – is a real challenge.
Has wading through all the programs in this space always been a let down for you? Same here. Too many times I've invested in programs that have looked promising, only to find that my toddler's short attention span only allows him to tolerate so much. 
I've spent so much time and energy trying every single program out there – just to find something to save me time and energy.
Well, It finally paid off. 
Homeschool+ is the online curriculum for our young students that we've all been looking for.
---
---
Looking For An All Subjects Online Curriculum For Your Preschool, Kindergarten, or 1st Grade Student?
We've seen a steady stream of online learning programs pop up left and right in recent years. As homeschooling wildly grows in popularity, so many companies are trying to meet the demand for online, user-friendly programs for kids.
While there are a lot of offerings in this space, much of what's available for the youngest kids especially misses the mark. It's great that kids can use tablets and tech to learn through all the great apps out there. But putting a tablet in front of a 4 year old and calling random learning apps "school" isn't really what we're looking for.
We homeschool moms need more.
This is why so many of us have come to really love products from Age of Learning like ABCmouse and Adventure Academy. Parents talk, moms trade tips to help each other, and we all know that a toddler's time on ABCmouse is time well spent.
These products are wonderful choices for turning free-time-screen-time (as we affectionately call it) into productive learning time that's just plain fun.
After all, my toddler knows all his letter sounds thanks to ABCmouse. And my older girls rattle on about Louis Pasteur, geometric shapes, and whether Pluto will ever be a planet again – all because they love playing Adventure Academy together.
And now, we've got the perfect option for an all subjects curriculum that's just right for our young homeschoolers.
A New Homeschool Home Run From The Makers of ABCmouse and Adventure Academy
With so many online learning apps geared toward early learners, moms often ask me which programs have curriculum for all subjects for their preschoolers and kindergarteners. Let's face it, there are seasons in which we just need someone to cover all the bases while we figure out what in the world we're doing.
Unfortunately, finding an online program that can be all.the.things has always felt impossible.
Until now.
Age of Learning has now launched their new online learning program, Homeschool+.
Designed for preschool through 2nd grade, Homeschool+ offers so much to be excited about. The complete early learning platform delivers adaptive learning lessons in reading and math and adds in optional lessons in social studies, science, art, Spanish, and more. While it's a great fit for many young homeschoolers, I particularly love it for an online preschool homeschool curriculum.
What Is Homeschool+?
Homeschool+ is an online learning curriculum for four years of education – preschool through 2nd grade. It includes a math program, reading program, and an additional program that offers lessons in Science, Art, Social Studies, and more.
It includes a customizable Lesson Planner, Progress Tracker, and adaptive and interactive tech that makes it a win-win for parents and little ones.
What Subjects Are Covered By Homeschool+?
The Math Program
Ok, I'm just a nerd when it comes to figuring out how to teach kids in a way that really helps them remember what they learned. It took me all of two seconds to see why the math portion of Homeschool+ is pure genius. 
Don't we all know that using manipulatives in early learning is the best way for kids to really grasp the concepts of counting and build number sense?
You'd think this wasn't really possible with an online program – but Homeschool+ figured it out. 
The math lessons had my son dragging and dropping Shapeys and other objects – working with numbers in the tens. They combined the physical act of moving and sorting with the audible and visual connection to the numbers – and plenty of positive reinforcement. 
My son was great at counting and working with numbers within 10 before we used Homeschool+, but he hadn't worked beyond that yet. The program adapted his lesson to working with higher numbers. I was thrilled to see how quickly he began to build number sense for numbers 10 through 20. I knew right away that this was from his time playing with the Shapeys. 
The secret to this success is something you might not even notice – a dynamite adaptive component that leads your child to mastery of each concept.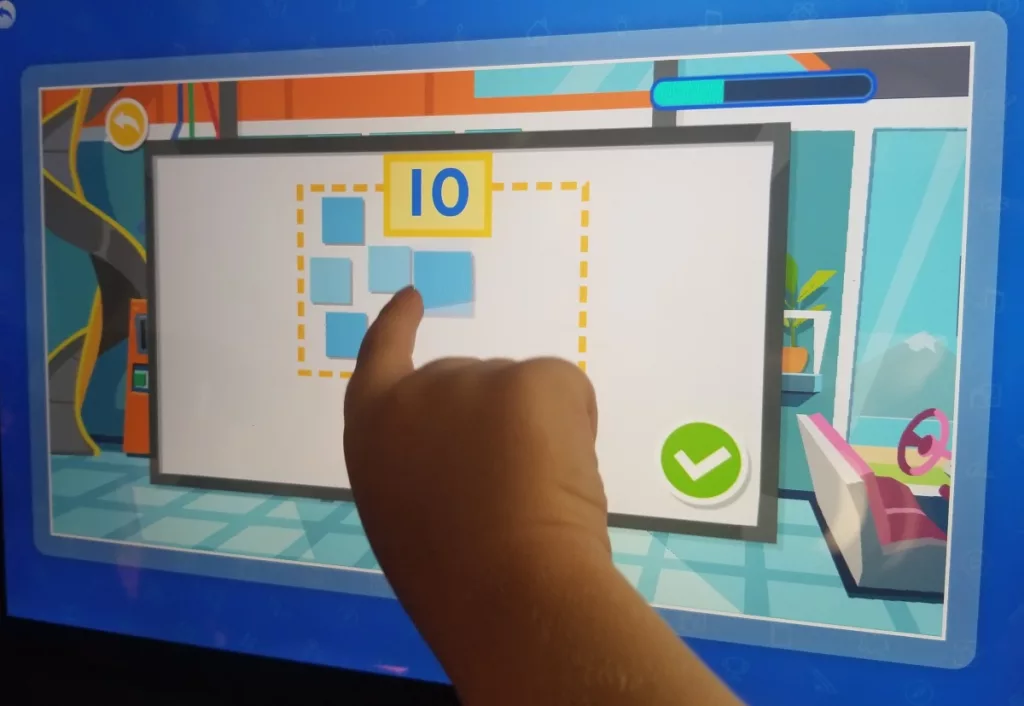 The Reading Program
The same adaptive science that makes the math program so effective is also built into the reading program. This program is designed to bring kids from complete beginner to full comprehension.
My toddler learned some phonics and even handwriting – the letter tracing activities are fantastic! The reading program also includes wonderful stories with age appropriate discussions by Nano and Bitsy. We loved that these characters ask the child their opinion and then have a response to their answers.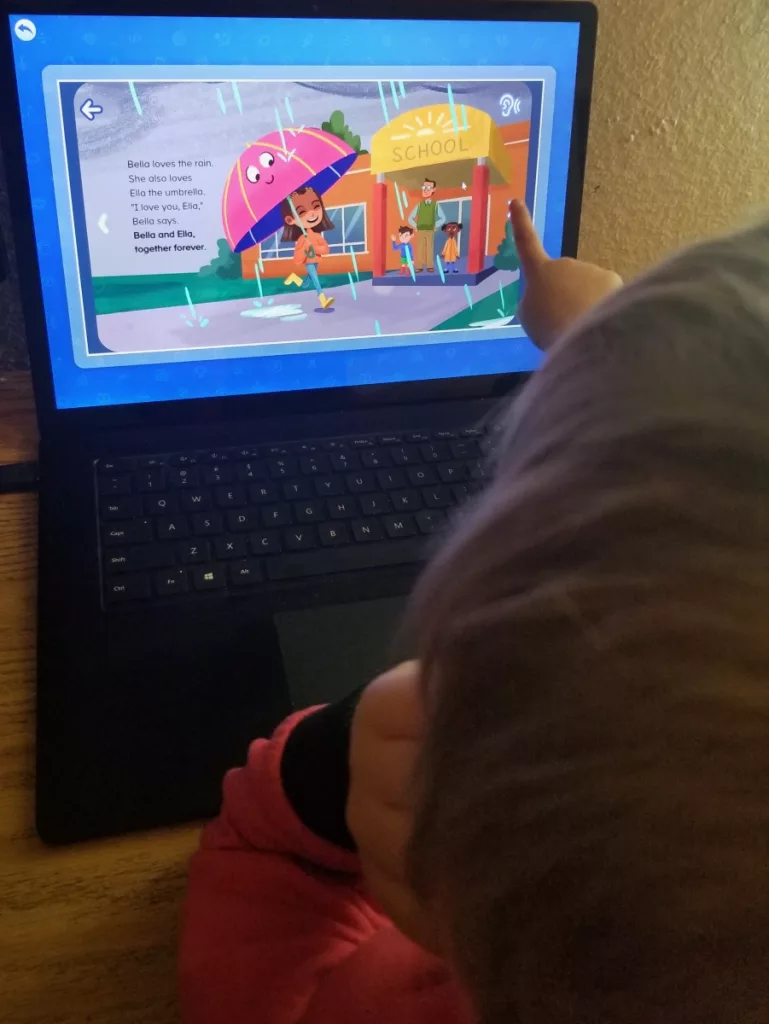 Additional Subjects
While the math and reading portions of Homeschool+ form the main foundation of each day's learning, the additional subjects bring this program into the "all subjects curriculum" category.
In the parent only lesson planner, you'll be able to turn on and off each additional subject based on what you want your child to study.
These subjects include:
Grammar & Handwriting

Animals & Habitats

Think Like A Scientist

Systems of the Human Body

Science Experiments and Demonstrations

Community Citizenship

Cultures and Places to Explore

Maps and Landmarks

First Spanish Words

Art: Colors and Shapes
*10-Day free trial, then $49.99/month until canceled.
The Perfect Blend of Both Independent & Parent Directed Learning
Many online programs simply try to offer adaptations that work for homeschool families. From the moment you start using Homeschool+ you'll immediately see that this program was designed especially for homeschoolers.
One of the star features of Homeschool+ is the available blend of online learning with parent lead instruction and activities. 
After my toddler finishes his math and reading lessons for the day, we move on to one of the additional subjects. In this screen you have the option to print out a lesson plan specifically for the day's lessons.
Once after learning about emperor penguins, my son got to make stick puppets of an emperor penguin family and color them according to their true colors. 
Another lesson taught him about primary colors and mixed colors. We used the lesson plan to teach him more about this and let him mix primary paints to make each of the mixed colors he learned about.
What I loved most about these lesson plans is that I was able to scan them and look for any activity that was just right for him. Some days we use these supplemental activities, and others we don't. We have the flexibility to expand the lessons or just move on – depending on the day.
Homeschool+ offers an ingenious blend of adaptive online lessons, pre-planned extension activities, and parent directed learning.
Yes, You Can Use
Homeschool+
For A Complete Curriculum – Here's Why
Math and language arts are the two "meaty" subjects in any homeschool. In my home, we tackle these subjects in the hours before lunch – in what we call Power Hours. I've learned over the years that if we get math and language arts done first, we're all set up for a great homeschool day.
The addition of other subjects to your Homeschool+ lesson planner allows you to hit every subject you want to teach your young ones.
Want to take the lessons further? The lesson plans allow you to do just that. In fact, you can use the lesson plans to teach your child comprehensive studies about geography, animals and habitats, cultures – even science experiments.
And best of all, you don't have to plan a thing!
Homeschool+ provides such a comprehensive curriculum that it's my new favorite curriculum to recommend for preschool especially. This is the best online curriculum for preschool that I've seen.
As a mom of four kids, I simply can't stay on top of all my kids' schoolwork AND deliver an outstanding start to my preschooler's education. Using Homeschool+ has alleviated much of my mom guilt. It's allowed me to give my son a great start to school. It's also allowed me to do special activities with him on days when I have a little extra time for just us.
No-Stress Lesson Planner Is A Win For Parents
The lesson planner is one of the best features of Homeschool+. It includes options that are tailor made for this age group. For example, you can set time goals for math and reading. When we first started, my toddler wasn't tolerating the suggested 20 minutes of each. It was no problem! We scaled it waaaay back to 5 minutes for each subject and it was magic. He loves spending time with the Shapeys, and sticks with the reading lessons to earn his "gold bar." 
I was able to pick just a few additional subjects for him to learn for now. A little art, some Animals & Habitats, Cultures & Places ended up being a great blend for him.
You can choose which days to do which subjects. We have classes out of the house on Thursdays, so I have that entire day turned off.
I suppose I get a little nerdy about anything that takes stress away from my homeschool planning. That must be why I immediately fell in love with the lesson planner. If you miss a lesson – it automatically adjusts them for you so you can pick up where you left off the next day.
No more stress over planning!! That's a huge win for this homeschool momma.
You really can set your time goals, adjust your subjects and lesson days, then glide through the program stress free. Thank you Homeschool+
The Clutter Free Screen Keeps Kids Focused & Attentive
Have you ever given your child a tablet with a new learning app that you thought was going to revolutionize your child's learning – only to find your kiddo goofing off or sneaking onto a different game?
It's happened to me with my son too many times. To be honest, I was a little worried my 4 year old would have the same response to Homeschool+. But you know what? He didn't.
Once we adjusted the time limit to what was appropriate for his cute little brain, my son was all about it. I was shocked.
I found myself nerding out over how strongly it kept his attention. Just a few weeks earlier I had him use some trials of some other learning apps and found out quickly he just wasn't into it.
So why was he taking to Homeschool+ so easily?
My guess? It's that clutter free screen.
Along with the genius positive reinforcement and clever interactive design, the one-thing-at-a-time screen design captivates kiddos.
The program is easy for my 4 year old to navigate himself. He's only seeing one thing and it's got his attention. This is why I just love Homeschool+ for preschool curriculum online.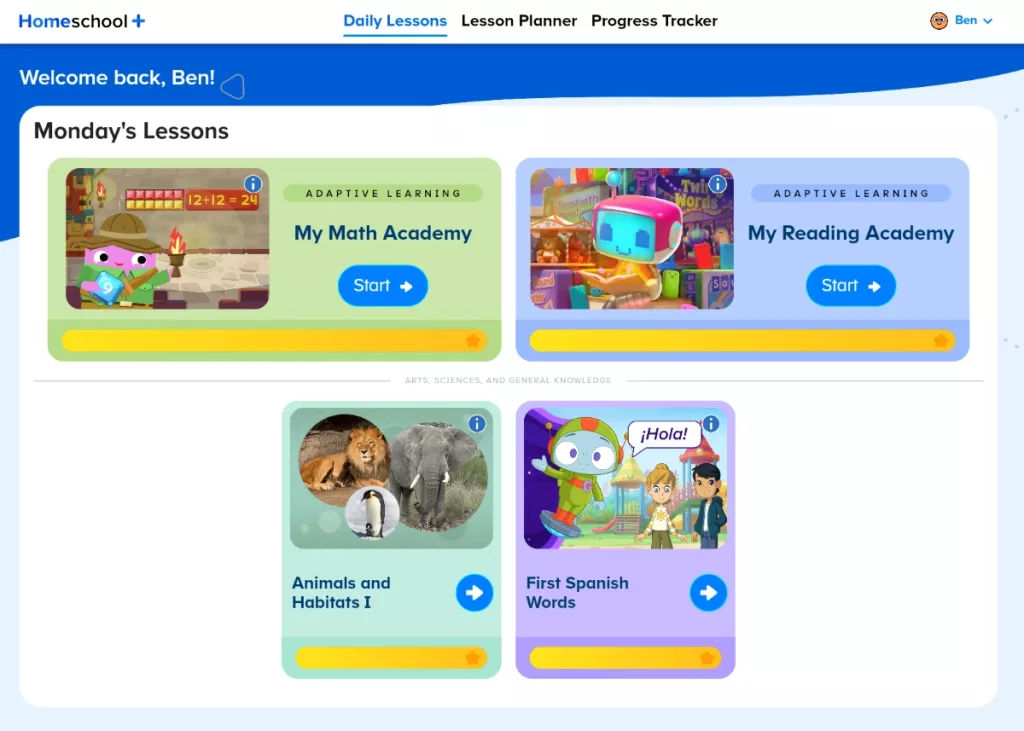 My 4 Year Old's Surprising Reaction To Homeschool+
As I mentioned before, I didn't have high hopes for my 4 year old responding well to another online learning program. But for some bizarre reason (or by ingenious design) my son absolutely loves Homeschool+.
He loves playing with the Shapeys so much that he asks to do his math every day. He really loves answering the questions after each story too.
And of course, I love doing the extra activities with him found in the Lesson Plans. It's always a sweet time spent with my cute little dude.
Fast Facts About Homeschool+:
Made by the same company that brought us ABCmouse and Adventure Academy

Uses Adaptive Learning technology to bring kids to mastery in math and reading

It can be used as an all subjects curriculum, especially for preschool.

You can choose the time goals for math and reading

You can choose which days each subject is taught and turn them off and on

The lesson planner adapts the lessons for missed days

Printable lesson plans give you activities and lessons you can do with your child for each of the 10 courses.

Will work on computers, tablets, or smartphones.
I hope this review has inspired you to take a look at Homeschool+ for your little one's complete online homeschooling curriculum.
Blessings,
Christy
P.S. While you're here, access my entire subscriber only freebies library to get unlimited free printables for your kids! Subscribe to my list to get access: